I love blogging. I've been doing it for a little over seven months now, and it's turned out to be even more fun than I thought it would be. One of my favorite things about blogging is all the amazing people I get to meet, especially small online boutique owners! Everyone I've met is just so genuinely nice, and it makes ordering from them and working with them so much better! So today I thought I'd share with you some of my favorite online boutiques, so you can get to know all these awesome people too! (I am totally not responsible for all the things you're going to want to buy after this! ;))
Also, happpppppy birthday to the best mom a girl could ask for, and the reason I'm as fashionable as I am! Love you Mommy!
Confetti Cake Collection: The name is cute enough to draw you in, but then you see the shirts, and the cuteness factor explodes. Plus, I can vouch for the fact that these are some of the softest and comfiest shirts you will ever own! (And each of them comes with a little pack of confetti to party with!) Also, you get to buy from one of the sweetest shop owners out there!
Accessory Jane: I met Liz through instagram (pretty much how I've met everyone from blogging at this point!) and I instantly fell in love with all her fabulous pieces! Plus, the fact that she's SO nice and always does her best to make customers happy is such a major win in my book. And now she has an official site up, and you can shop her jewels any time!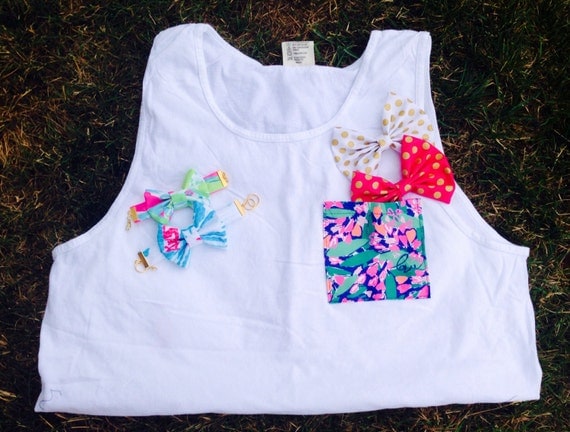 Preppy Bows and Sass: My obsession with this etsy store knows no bounds, as it fuels my bow and Lilly Pulitzer obsessions. Bows...in a bracelet...in a Lilly print? PERFECTION! There are so many fun things to choose from in the store, so I apologize in advance for emptying your wallet! ;) (you can use the code KYLIEREP for 15% off a $10 purchase!)
Shop Pretty Pants: What a fun store! There are so many amazing things to choose from, and the best part is, they're always getting more! Since I started following them on instagram a couple months ago, I've seen the store grow so much and tons of new products get added! There really is something for everyone!